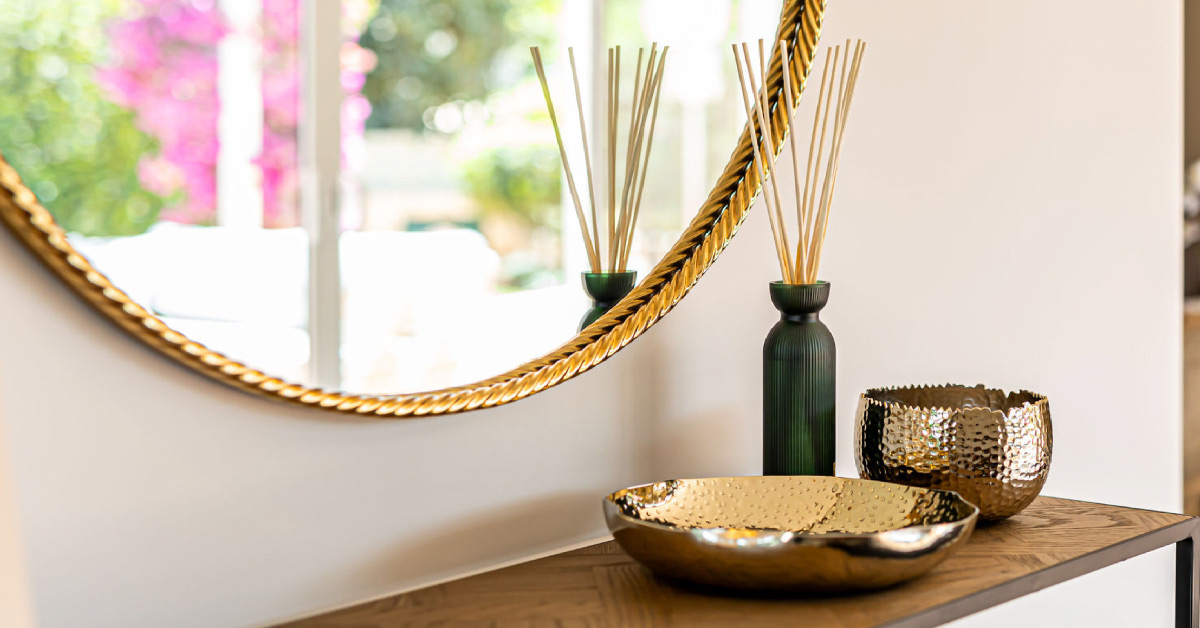 Mastering Console Table Styling: Elevate Your Home Decor with Pro Tips and Interior Design Inspiration
Mastering console table styling with some basic design principles will turn any hallway entrance into a Pinterest-worthy space! At SSBD HQ we love any excuse to create entrance console table set ups in our interior design projects!
Where client homes allow for it, we always strive to create a console table area or point of interest within the entrance, this creates a welcoming introduction to your home.
Seeing this practical trend across our feeds inspired us to bring you our tips and tricks for creating a balanced and inviting console table, styling like a pro!
Step 1: Choose the Right Console Table
Take into consideration size and style of your entryway or area of interest, the console table should fit comfortable without overpowering the space.
Select a console table that complements your overall home décor theme and colour scheme.
Opting for a table with storage options, such as drawers or shelves or some baskets to keep the area organized and clutter-free is a must.
Step 2: Add a Mirror
Paring a console table with a mirror for decorative and practical purposes is always a winner.
Mirrors enhance the visual appeal but can also open an entrance, making it appear larger and brighter.
Choose a mirror that compliments the style of the console table and/or overall décor theme and colour scheme in your home.
Step 3: Add Decorative Layering
Creating visual interest by layering decorative elements, this includes but is not limited to, artwork, vases, candles and diffusers and decorative trays.
Use height and texture to create the sense of depth I your decorative display items – e.g., placing taller items next to shorter ones.
Step 4: Choose a Lamp, Lighting Matters
Adding table lamp or wall sconces above the console table helps to provide warm and welcoming lighting.
Your chosen lighting should be both functional and aesthetically pleasing, enhancing the ambiance of the entrance.
Step 5: Add Personal Touches
Incorporating personal touches that reflect your style and personality creates charm and authenticity.
This could include family photos, artwork, or sentimental items and trinkets.
Be mindful to avoid clutter by carefully selecting a few meaningful items to display.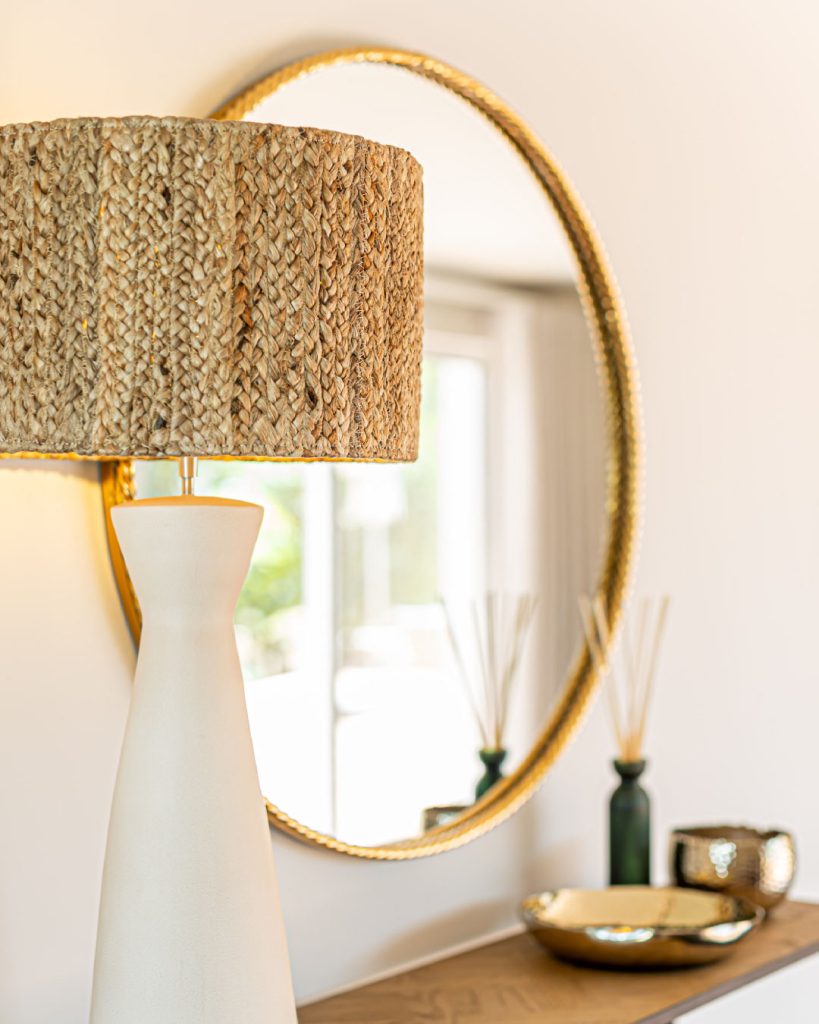 Step 6: Consider Greenery and Fresh Flowers
Incorporate plants or fresh flowers to bring life and vibrancy to the entrance. A potted plant or a vase of seasonal blooms can add a welcoming touch.
If you're no plant-lover or do not possess a green-thumb, then opt for beautiful, dried florals and faux options that look elegant and authentic.
Step 7: Include Storage Solutions
As mentioned in step 1, choosing a console with storage options or the ability to house storage options helps to keep essentials in order.
Items like keys, mail, or small bags can be neatly organized with minimal effort.
Consider rattan baskets, woven storage baskets and trays to maintain a tidy appearance.
Step 8: Add Optional Rugs and Runners
Place a rug or runner in front of the console table to define the entrance area and add warmth and texture to the space.
Step 9: Final Touches
Keep It Tidy
Regularly De-Clutter
Maintain Consistency
Don't Overcrowd
Do Consider Seasonal Updates
By following these tips and adding your personal touch, you can create an inviting entrance that leaves a lasting impression on visitors and makes you feel welcomed every time you enter your home.
Are you in need of professional help with your current seasonal rental or real estate sale but aren't sure what you need to elevate your home, who to hire and which services you need? Get in touch with us via our contact form or email info@sofiasardo.com
Follow our design journey on Instagram
Dried Floral Arrangement by Vitoriana Florista